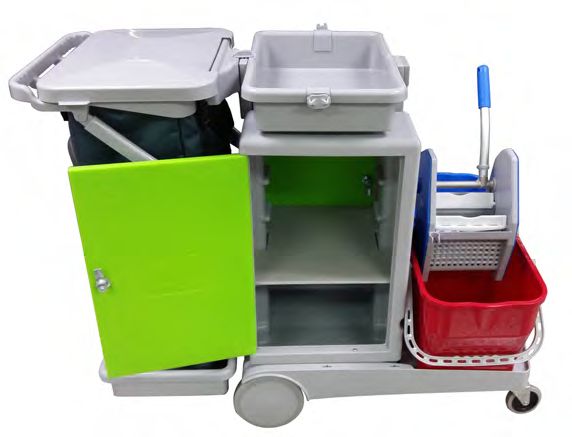 Italian Design according to Hazard Analysis Critical Control Point ( H.A.C.C.P.) Hazard Analysis Critical Control Point:
-Made of non-toxic materials
-Easy to take off accessory or parts for cleaning.
-Rust free
-With rounded shaped to 90 angles where baterial can stop and prolifereta JT RC150
– Easily assemble in 1 minute with no screws and wrenches
– Front platform holds 25L x 2 mop bucket with down press wringer for floor cleaning tasks.
– Rotationally molded polyethylene(PE) cabinet; 2 doors with one adjustable shelf
– Roll top keep cleaning tools concealed from view
– Non-marking wheels to the rear and insert swivel castors at the front for maximum maneuverability.
– 120L capacity nylon bag for everyday waste, with lid